Your social media strategy is all planned out. Your content calendar is created, and your original content is ready to go — but don't put your feet up quite yet.
In order to get eyes on the content you've created, you need to promote all the hard work you've put in. Any social media marketer will tell you that a promotion strategy is vital to getting sales out of your social media presence. By adding followers, you're adding soft leads — many of whom reflect your target demographic and are ready to learn more about what you have to offer.
We've put together 10 social media promotion ideas designed to help you get the attention your social media accounts deserve, as well as the followers you need to ultimately boost sales.
1. Add social icons to your website, email signature, and newsletters
Your website is the first place many of your customers and prospects will go to learn more about your brand, products or services — so it's the perfect place for some simple social media promotion. Adding social media icons to your website's footer will show your visitors more ways to connect with and learn about your brand.
You can also add icons to your email signature and include links to your social media platforms within your newsletter and other key communications for additional promotion.
2. Cross-promote your social media presence
Use your other social media accounts to your advantage! Don't forget to remind your Facebook audience that you have an Instagram account, nudge your Instagram followers to check you out on Snapchat, or encourage your LinkedIn connections to follow you on Twitter. Loyal followers will appreciate the opportunity to connect with your brand, products or services in new ways.
You can also do this in a less overt way by adding links to your other social media platforms in the bio section of each account.
3. Pay to promote your posts
Many social media platforms give you the power to boost certain posts using their paid advertising services. A Facebook promoted post will appear in front of your audience more frequently for added exposure, and the platform makes the entire process pretty easy.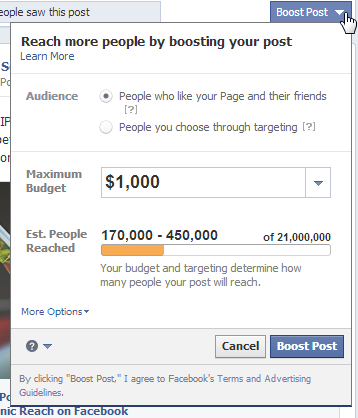 Instagram offers the ability to turn posts into ads, and Twitter's Promoted Tweets can help you reach a wider audience and engage current followers. All in all, boosting posts is a simple way to ensure visibility and elevate your engagement.
4. Take advantage of targeted ads
Targeted ads are a powerful way to turn members of your target audience into followers. And when it comes to digital ads, there are many targeting options available. Consider purchasing targeted ads within a platform like Facebook and connecting them directly to your social media content.
(Here's some helpful advice for navigating the Facebook Business Manager platform and mastering its algorithm.)
5. Tag your products in your posts
Don't miss an opportunity to connect the content you've created with a sale. When you talk about a specific product in a post, make sure you tag it too, ensuring followers who want to learn more or make a purchase have an easy way to move forward. Instagram's shoppable tag feature is an effective way to tee this up.
6. Share content from influencers and companies that align with your brand
Sharing is caring — and if you do it the right way, you can bring more followers into the fold. As you generate content for your social media platforms, don't forget to include the shared content of influencers and brands that align with your own brand. This is a great way to form valuable connections and encourage other brands and influencers to share your content in return.
7. Host a contest or giveaway
Everyone loves a good giveaway, especially on social media. You'll find contests happening on every social media platform, from Facebook and Instagram to YouTube and TikTok, every single day.
The most effective social media contests or giveaways are easy to enter, on-brand, and encourage your followers to spread the word and bring in new followers.
8. Encourage your followers to tag their friends or colleagues
Creating content that asks or inspires followers to tag a friend is an example of a simple promotion that can bring about great results. Whether you encourage your audience to tag a friend or colleague who would love a particular product, or who would be inspired by fun new content, you're likely to gain new followers who fit your target audience.
9. Ask your personal network to follow your company
This is a simple way to build up your following if you are just getting started. For example, LinkedIn provides you 100 invites per month to ask personal connections if they would like to follow your company profile. Any employees that have been granted access to your company account can invite their connections as well.
10. Don't forget about the hashtag
While overuse can look unprofessional, adding a few strategic and relevant hashtags in your post can certainly help you find the right type of followers. Hashtags can be used as a search mechanism for specific content on social platforms, so do some research on popular tags related to your content and test how it works for you.
Social media promotion is a vital part of building an audience and bringing in sales leads — and it doesn't have to be hard. From everyday organic initiatives to paid promotions, a little effort can help you boost brand awareness and grow your presence in no time.